Current Research Projects
Click here for details of Dr Singh's research interests
Dr Singh is a Primary Supervisor for University of Sydney Postgraduate Researchers.
Dr Singh is currently supervising:
5 (Five)
Masters and Doctoral candidates.
If you are considering a research degree in ENT (Otolaryngology, Head and Neck Surgery) through the University of Sydney, we recommend you contact us to meet with Dr Singh.
We have dedicated research funding available. You will be supported by the research facilities of The University of Sydney and the clinical resources of The Western Sydney LHD, including Westmead Hospital, Australia's largest healthcare campus. Dr Singh has numerous research topics available for motivated researchers. Publication of your results is our priority.
Please click on the picture for an enlarged view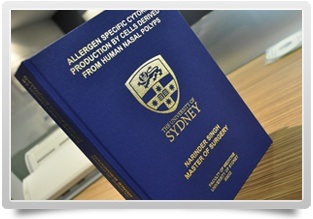 Click here to download a copy of Dr Singh's Thesis, for the award of Master of Surgery from The University of Sydney, entitled "Allergen Specific Cytokine Production by Cells Derived From Human Nasal Polyps"